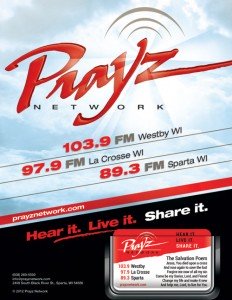 The Prayz Network
is a local (Sparta, WI) Christian radio station which does a great work in bringing the Word of God to many people. Their format broadcasts a sermon at the top of every hour followed by contemporary Christian music at the bottom of the hour.
The Prayz Network has partnered with camp for several events and has even broadcast live from the valley during our community outreach events. Once again, The Prayz Network is lending a helping hand in promoting our upcoming Mother Daughter Retreat. An interview with the Mother Daughter planning team will air on Saturday, January 31st at 5:00pm. If you would like to listen online go to the
Prayz Network website.
Thank you to the Prayz Network for all you do to publicize the ministry at camp!